Many of you have been inquiring about the status of the Nautical Club Condos located in Indian Beach. If you follow Bluewater Real Estate's tweets, you would have seen their tweet this morning announcing the Ribbon Cutting at The Nautical Club which will take place (tomorrow) Thursday, April 25th at 4:30pm.
Judging from this MLS page, units are being sold from about $199K to $250K. Check out all the info about the Nautical Club condos in Indian Beach here!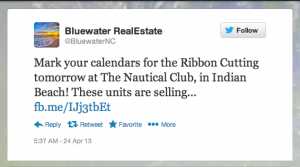 The Nautical Club Condos are located at 1550 Salter Path Road in Indian Beach, NC.
For More Breaking News Follow @emeraldislenc
For the latest news about Emerald Isle, NC and the Crystal Coast, be sure to follow @emeraldislenc on Twitter!
Categories: Crystal Coast Events, Crystal Coast News
---
---